Please know this is a metamorphosis that I haven't done yet…it is one that I am thinking of doing and I would appreciate your feedback. Recently dropped $3 on a vintage screen door. I wasn't sure what I was going to do with it because it is too narrow and too tall to use in place of my current screen door. I had a few ideas, but Holly from Homebody left a comment about how others had turned screen doors into pantry doors and it got me thinking. Even though I don't have a pantry in my kitchen as I chose to put in a washer/dryer (see below) instead, I wondered if I could replace my laundry doors with the screen door. I propped the screen door against the laundry doors and it looks like it would work. Below are a few photos of the screen door placed over the current laundry doors.
Leave me a comment and let me know if I should or shouldn't use the screen door. If you say yes…should I put some type of black and white fabric in lieu of rescreening it? I think it will need something to hide the washer/dryer. You can see more of my kitchen here and here.
Do you think the screen door will look odd next to the basement door which is on the left?
Blogged for Between Naps on the Porch's Met Monday, and
Southern Hospitality's Thrifty Treasures.
Thanks Susan and Rhoda for hosting.
Roadkill Rescue
If you are up to it, consider taking the Roadkill Rescue challenge hosted by Infarrantly Creative. The challenge will take place on 11/18/09 (my one year blogoversary). Here are the rules.
1. The object you makeover must have been completely free to you, meaning you found it on the side of the road, in a dumpster, someone gave it to you, or Aunt Nelly died and left it to you in her will. YOU DID NOT PAY A DIME FOR IT...got it? Good!
2. You can use or buy other things to help fix it up (spray paint, embellishments, ribbon, fabric, etc).
3. You have to be a subscriber of Infarrantly Creative.
4. You must have the Roadkill Rescue button somewhere on your sidebar.
5. It doesn't have to be a new post, you can use an older post as long as it applies to rule #1.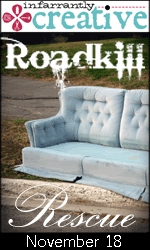 Beach House Inspired Watercolors Offer
A consolation offer from Sara Tetley of Beach House Inspired Watercolors for those that missed out on winning a print.
OFFER: 20% off on an order of up to 2 prints through September 15, 2009. Send an email to Sara Tetley at sara.tetley@pgav.com with the names of the print(s) you wish to purchase as well as any items from her ETSY shop 'sold' page, and be sure to include the discount code COTTAGELIFE. Sara accepts PayPal or cashier's checks. Thank you Sara!
Check out my Thrifty Shopping articles on examiner.com.
Thanks for stopping by Cottage Lifestyle and examiner.com.
Renee