Found in the neighbor's garbage and dragged home. Took a slipcover class and using material my friend Anita had given me, I made a slipcover. I must say it was painful for me to sew this slipcover.
Blogged for Infarrantly Creative's Roadkill Rescue party.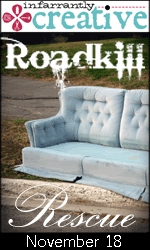 Check out my Thrifty Shopping articles on examiner.com.
Thanks for stopping by Cottage Lifestyle and examiner.com.
Renee